What are the real consequences of Russia's sanctions on Georgian economy? Is the effect really as catastrophic, as some politicians say?
Caucasian Journal opens an interactive discussion on "Gavrilov's Effect", and welcomes real-time comments from all competent professionals - preferably with facts and figures at hand.
Georgia's ISET Policy Institute has recently released a chart "Gavrilov's Effect on Economy", which
Caucasian Journal
is using here with the authors' permission. We hope this chart will trigger a discussion with important feedback from representatives of various industry sectors.
ISET Policy Institute's comment:
Against the backdrop of recent developments, many people are currently worrying that Russia's ban of passenger flights to and from Georgia could be a serious blow to the Georgian tourism sector, as well as the economy in general. However, the numbers show the following: the share of tourism in the Georgian economy is 7.6%, the contribution of Russian tourists to the Georgian economy is 1.8%, and the contribution of Russian tourists travelling by air to the Georgian economy is 0.5%. (Source Data: GNTA)
On airline service between Georgia and Russia:
Zhengliang LIU, Director of Myway Airlines
Caucasian Journal:
What are your plans regarding Russia destination, and the alternative routes you will offer?
Zhengliang LIU:
As you know, the Transport Ministry of Russia made the resolution to stop all flights between Georgia and Russia. Our airline received the relevant letter from the Georgian Civil Aviation Agency earlier this week, therefore, Myway Airlines started the process of canceling and refunding the flights for the remaining of the summer season. Of course, all the passengers will be fully reimbursed.
Myway Airlines started flights on Tbilisi-Zhukovsky route with three weekly frequencies starting from April 26 and the addition of fourth frequency was planned from July 1. The official statement made by the Russian Aviation Authorities was that one of the reasons for the ban of flights for Georgian airlines was the debt to Russian air navigation services which is not true, our airline has been paying all service fees in due time and has no debts whatsoever to the Russian aviation authorities. In terms of flight safety, we have submitted all the required documents several months ago. If Russia has any kind of questions about the safety of our flights, it can apply to the Georgian Civil Aviation Agency or to the European Aviation Safety Agency (EASA).
CJ: What is your assessment of potential losses related to Russia's flights ban?
ZL:
Of course, commercially it is a big loss for our company because it refers to about 6,000 segments which has been already sold. We have opened sales for all the IATA summer season and now we are forced to cancel all the segments and initiate the refund procedures because of this embargo on flight imposed from the Russia side.
CJ:
What are your plans for future development, such as new destinations, new services or more fleet?
ZL:
Myway Airlines now operates regular flights on Tbilisi-Tel Aviv route with 4 flights per week from 01 July. At the same time, our airline performs charter flights to various directions, due to the given situation we will further strengthen this dimension and work even harder to bring more tourists from different countries to Georgia.
Myway Airlines is the official carrier of the Georgian National Football Team, and is also a partner with the Georgian National Rugby Team. We were the official carrier of the Georgian Eurovision delegation to the Eurovision Song Contest held in Israel in 2019.
In the long term, the plans of the airline are quite ambitious. In future we are planning to add more regular flights to various directions. At this stage, our airline operates with two aircrafts of B737-800's, equipped with 8 business and 162 economy-class seats.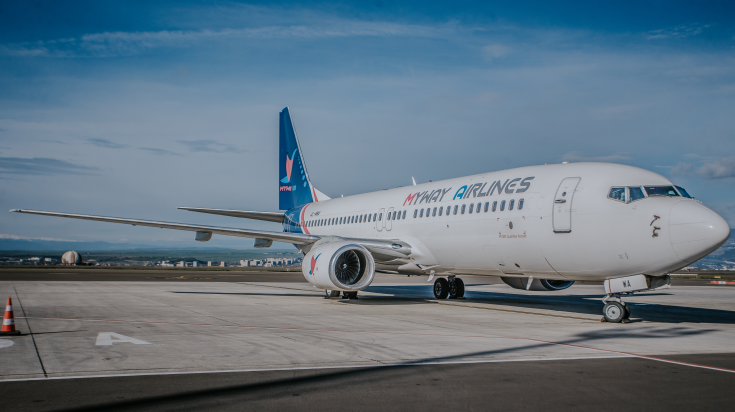 Myway Airlines has up to 150 employees. Our main goal is to provide our customers with safe and comfortable flight from Georgia to Europe, Middle East, Asia and CIS countries.
The long-term development strategy is focused on developing Tbilisi international airport as a true hub in the region. We have diversified our sales channels, created new branded tariffs, and our renewed website will be available to our customers in the upcoming days.
On Georgian macro economy:
Eva BOCHORISHVILI, Lasha KAVTARADZE, Galt & Taggart:
Georgia's key positives lie in its economic and trade diversification, the success of implemented reforms, its macroeconomic resilience, low public debt level and strong banking sector. These factors insure economic resilience in the face of upcoming Russian sanctions on Georgia's tourism and possibly on wine industry. Dealing with Russian sanctions is not a new challenge for Georgia. The 2006 Russian embargo forced Georgia to redirect its focus from Russian market, which expanded export destinations and improved quality of Georgian products. This also deepened economic ties with the rest of the world, with EU-Georgia free trade agreement signed in 2014, followed by free trade deals with China and other countries. We believe that upcoming Russian sanctions will further intensify Georgia's economic diversification, use potential of new large markets – EU and China, and enhance its institutions.
Georgia's exposure (as defined by combination of four channels: exports, tourism, remittances and FDI) to Russia accounted for 9.3% of GDP in 2018. Notably, since 2013 Georgian exports to Russian market increased significantly as trade was restored. Georgia also gained popularity among Russian visitors. Dependence on remittances from Russia has been reduced in recent years as EU became another alternative of Georgian migrants, while FDI from Russia is generally low.
In short, recent Russian sanctions expected to weigh on Georgian economy, but unlike 2006 Russian embargo, the country is better placed to deal with negative shocks. Summing up:
- We forecast sanctions to reduce Russian arrivals by 47% y/y in 2H19, while we forecast visitors from other countries to increase by 15% y/y in the same period, fully compensating reduced Russian visitors as well as sector revenues.
- We expect tourism revenues to be flat y/y in 2H19 at US$ 1.9bn in contrast of our initial growth projection of 12.3% y/y at US$ 2.1bn in 2H. Overall, we estimate tourism revenue loss of US$ 200mn in 2019 from reduced Russian arrivals. Therefore, we revise tourism revenues forecast for the full 2019 year at US$ 3.4bn (+6.9% y/y) from our initial projection of US$ 3.6bn.
- Georgian wine export to Russia stood at US$ 114.5mn (3.4% of total exports) in 2018 and exports reached US$ 51.2mn in 5M19. We estimate revenue loss from possible Russian embargo on Georgian wine at US$ 58mn in 2H19. Notably, wine makers expected to adjust to market conditions quickly and redirect their product to other destination markets, as Georgian wine is popular worldwide, unlike 2006.
- We expect real GDP growth at 4.3% in 2H19 as Russian sanctions expected to subtract 0.7ppts (US$ 260mn revenue loss or 1.6% of GDP) from Georgia's real GDP growth. We expect 2019 full year growth at 4.5%, as economy expanded at an estimated 4.8% in 1H19.
- We expect average GEL/US$ to remain close 2.7-2.75 in 2H19 and GEL to strengthen at 2.6 in 2020 as we do not expect additional pressure on GEL from Russian sanctions, but short term volatility due to uncertainty.
Download full report by Galt & Taggart
here
.
On Georgian wine market:
Simon APPLEBY, General Director of YFN Georgia LLC:
The reliance on the Russian market for absorbing Georgian wine production is substantial, over 60% in 2018. It is apparent also that Russia has been absorbing much of the lower end of Georgian wine output, as indicated by average price per litre.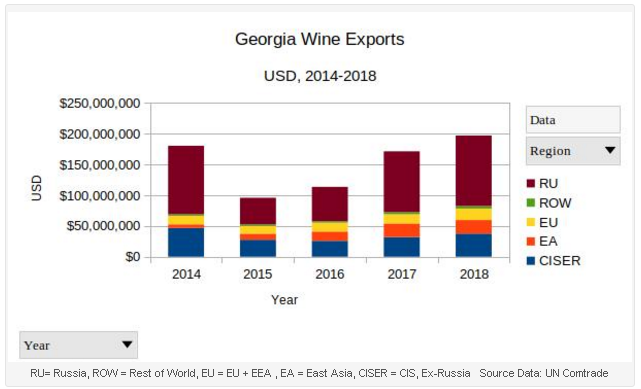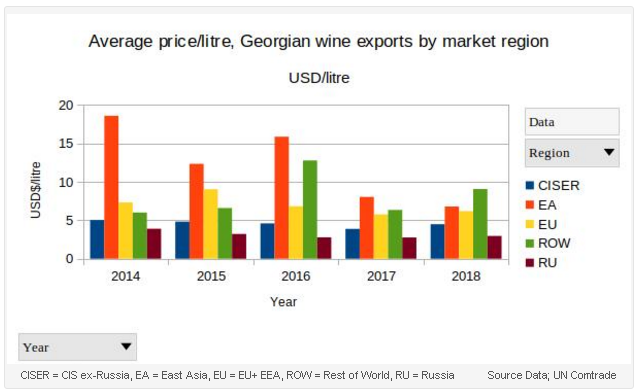 On the bright side, the East Asia market for Georgian wine has quadrupled in dollar terms in only five years. That is not an unusual growth curve when a product is well-promoted, and priced and positioned correctly in that part of the world. Given that the East Asia wine market (ex-Japan) is still growing quite fast, and presuming that investment in brand recognition and distributor search continues to be effective, the East Asia market for Georgian wine could conceivably quadruple again in another five years. That would account for about $100 million in exports, almost the same as what Russia accounts for now.
One note of gloom is that a substantial proportion of Georgia's wine output is of rather basic quality table wine destined for Russia, which is not competitive with French, Spanish or Italian table wines which deliver well on the price/quality spectrum.
The EU market is showing slow and steady growth, mostly in the Baltic States, Poland and Germany. That trend should continue. From a very low base, the US market is accepting more and more Georgian wine, and a Free Trade Agreement with USA should assist that process.
It is to be hoped that current intimidation of Georgian exporters by a key export country's government does not persist and that normal trading can continue. Should an embargo eventuate, there will be a substantial disruption of the industry for 5 years or more as Russia-dependent wineries struggle to place product in non-traditional markets. More prudent operators with existing diversified markets will be in a position to capture underutilised grape supply chain at a more reasonable cost, and to acquire distressed or bankrupt wineries and vineyards to expand their business and improve their economies of scale.
If faced with a crisis, the National Wine Agency will have to prioritise its marketing activities based on the fastest return on investment. Activities in Europe and CIS-ex Russia may have to be de-emphasised in favour of faster-growing markets. Investment in brand development and recognition, distributor search and in-country promotional events in East Asian markets, with both government and private companies covering the costs, should balance supply and demand faster than pursuing market share in mature markets with a surfeit of their own quality, inexpensive wine.
(Source Data: UN Comtrade)
If you wish to add a comment, you may use "Post a comment" field below, or our Facebook and Twitter pages. All comments will be published after moderation.