28.06.2022
(Caucasian Journal
)
Today Caucasian Journal has very special guests representing the Tbilisi's cosmopolitan art scene: The Ukrainian artist Anastasiia PTASHYTS, hosted in Georgia under a residency program of Tbilisi's Licht Gallery, the Israeli-Swiss co-founders of the gallery
Daniel LICHT and Rita GELIN LICHT, and the Russian artist and art curator Alexander FLORENSKY.
Seems like quite an interesting combination of nations, but not unusual for Tbilisi, which has for centuries been a very international city.
Alexander KAFFKA, editor-in-chief of CJ: My first question is to Anastasiia Ptashyts. You have been working in Georgia for a month, away from Ukraine - what is your state of mind now? Which color (or image) is it, if I may ask?
Anastasiia PTASHYTS: My state is rather uncertain. Life seemed to be divided into two parts: My family stayed in Ukraine, so a part of me lives there, and the other part is somewhere else, trying to find my place and work. I think often about what is my part and help to the victory of Ukraine. And I understand that my life, active position, and the fact that I can make an effort on myself and continue to work is the right thing for our victory.
I find it difficult to choose an image for my condition. A bright image for me is a satellite image, with a view of my land, which is covered with explosions and shells from bombs. This is an open wound, and we feel terrible loss and grief every day. But even in a situation like this, I want to assert life and courage, the will to freedom and the belief that everyone in their work brings our victory closer.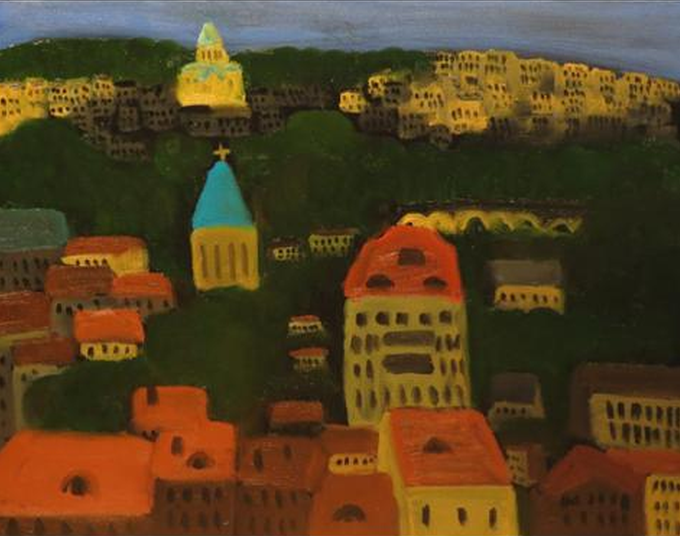 AK: What's your impression from stay in Georgia, is it relaxing or productive? Do you think Georgia has influenced your art in any way?
Anastasiia PTASHYTS: This is my second time in Georgia. Before the war I finished a Georgian series of works. Now they are all in Kyiv. Georgia is a strong source of inspiration for me. I feel grateful for the opportunity to live and work here, for the support of my friends and for the common position of supporting Ukrainians here, in Georgia.
AK: Alexander, you have invited Anastasiia to the art residency program of your gallery. It's a new gallery, and your first resident artist is coming from Ukraine. Can you tell how it all happened?
A bright image for me is a satellite image, with a view of my land, which is covered with explosions and shells from bombs.

Alexander FLORENSKY:
I would not say that this is a political choice. I first
saw
Nastya's (Anastasiia) work 3 or 4 years ago
on the Internet, without knowing anything about her, but immediately bought 3 oil paintings (I have been collecting paintings that I like all my life). We started some kind of correspondence on the net, and last year Nastya came to Tbilisi and asked me for advice on where to stay. I invited her to live with me in my studio, in fact, then we met in person. She made a lot of works on the theme of Georgia, and again I bought several works from that collection. When Nastya was miraculously able to leave Kyiv for Italy in March of this year, I continued to keep in touch with her and, with the help of my wonderful friends, helped her to find a 2 months' work in Italy, and then to make a small exhibition in Austria. So, when the question arose about the first resident of the gallery, which was just opening, Nastya's candidacy came up first by itself, although we did not care about political correctness and the need to call an Ukrainian artist first; it turned out so beautifully. It's just that Nastya is a very good and yet underrated (as it seems to me) artist. And I have the audacity to believe that I am never mistaken in such assessments. Since we had the opportunity to somehow help at least one person from Ukraine, and also to get a good artist into the residency, we took advantage of it. That is, this choice has nothing to do with charity, Nastya was invited to the residency not as the owner of a Ukrainian passport, but as an artist, in whom I see great potential.

AK: Anastasiia, the relations between Ukraine and Russia are in a deep crisis, and the same is true for many work partnerships and even for families, which are suddenly cut by division lines. How do you feel about working with your Tbilisi art curator Alexander Florensky, who is very well-known Russian artist? (Alexander is one of leaders of famous Mitki art movement from in St. Petersburg).
Anastasiia PTASHYTS
: Alexander Florensky is a friend and teacher for me since even before the war. When the war began, he took on a strong position of support for Ukraine. He helped me when I left Kyiv, we kept in touch and I was able to return to my work again. While the war is going on, I think that everyone can, according to their strength, support our army, volunteers and those who need help, and art, whether it depicts war or simple everyday things, can be a support and evidence of life for every person.
AK: Alexander, may I ask you a similar question? What's your impression of curating Anastasiia, and how can you comment on her artworks done in Georgia?
Alexander FLORENSKY:
Nastya is a young person compared to me, and it seems to me that she likes my pictures. Therefore, she involuntarily took to asking me for advice when she doubted something, and like any real artist, she doubts herself quite often. When she worked in Italy, this communication took place online, in Georgia - more often live. To date, her work on Georgian themes has not been completed, but I already see works that, as a collector, I would not mind having in my collection. Nastya belongs to approximately the same category of artists as me - she draws what she sees, so in Italy it was Italy, and now here it's landscapes of Tbilisi and the surrounding area, where we went together, Ananuri, Jvari, Shio-Mgvime etc.; an exception is her series of works about Gdansk, Poland, where she stopped by for a few days to see her friends (who are also refugees).
I suspect that no amount of cancellation can harm the real culture.

AK: Alexander, I think your Ukrainian-Russian curatorship project is quite unique, especially if we look at the global context with its "Cancel Russian culture" tendencies. With all the wide artistic and life experience that you have, I am sure there are quite important things that you may share with our global readers. All your comments are welcome.
Alexander FLORENSKY:
I understand very well the feelings of those who now want to abolish everything Russian, including culture. This is a natural reaction to what is happening now, and I think that this is normal. I myself would cancel a lot in Russian culture, if I had the chance, but I also suspect that no amount of cancellation can harm the real culture. Good paintings or poems created by Russian artists or poets will remain good, and bad ones - bad, just like paintings and poems by artists of any other nationality. But in our case, Anastasiia
Ptashyts
is a Ukrainian artist, so I don't see much connection with Cancel Russian Culture.
AK: Let's not forget that this unique project is happening in Georgia, at a new gallery, which opened just a month ago in downtown Tbilisi, just a 5 minutes' walk from the Liberty Square. Rita, can you tell us a bit about your Licht Gallery? Why did you decide to start an art gallery in Georgia, and how do you see your mission here?
Rita GELIN LICHT: To call our reasons a "mission" would be too grandiose, but I guess you could say it's because we love art. In 2010, our close friend Sasha Florensky introduced us to Georgian and Russian artists. We got to know them and around a year or two later we brought a couple of artists to Jerusalem to draw our beloved city. At the time, our family was in the USA, and we were feeling very nostalgic and homesick. The project was a great success and we did it another time with another arrangement of Georgian and Russian artists. We eventually ended up doing this kind of projects five times, which we never expected in the beginning. This entire time we couldn't actually see the works of our city and only first saw them when we got back to Israel. My point is that an entire decade before we opened our gallery, we were already used to being around art and supporting artists that we like. For me, I am more than happy to share artists that I think are great with the public while also supporting and helping them.
AK: Was it easy enough to launch your project in Georgia, from a business standpoint? What was your most remarkable experience so far – perhaps a funny one, or an eye-opening situation?
Rita GELIN LICHT:
During the beginning of the building works, we faced opposition from our neighbors worrying about the gallery attracting young people who would get drunk and piss all around the area – that is probably a stereotype of an art gallery for somebody. As we continued our construction however, we discovered that at the same place where the gallery is now, there existed many stories. All the 15-20 families in the Italian court used it as a public restroom, while in one of the rooms in the back someone cut up chickens regularly and covered the walls with blood. But in my opinion the most interesting story was the story of the Armenian woman Nara, who used to tell your fortune from your hair and nails. On most days, there would be a long line on Tabidze Street just to see her. So, there were really funny worries of the neighbors about young artists getting drunk and pissing. When I look at the clean white walls of the gallery I think of
One Hundred Years of Solitude [A 1967 novel by Gabriel García Márquez - CJ]
AK: Dani, I cannot help mentioning Misha Shengelia, a remarkable Georgian artist and one of my personal favorites and good friends, who passed away in 2020. Your gallery opened with Misha Shengelia's exhibition, one of the most comprehensive retrospectives of his unique art. What's behind this choice? And do you have further plans of working with Misha's heritage in the future?
Daniel LICHT:
Misha Shengelia was one of our dearest friends and he was one of the main reasons we came to Georgia. Although Georgia is an amazing country, it isn't the same Georgia without Misha. He supported our gallery from when it was just a distant idea, and was just as excited as us if not more. During his last few days, we were always on the phone discussing plans for the gallery. We will take any chance that we can get to promote Misha, his works and his name, and we plan to compile some albums and catalogues in the future.
AK: Three of our guests are artists currently working in Georgia. So I must ask Rita and Alexander the same question as I asked Anastasiia: Do you think Georgia has influenced your art in any way? How do you feel about living in Georgia, in general?
Alexander FLORENSKY:
I have been living and working between St. Petersburg and Tbilisi since 2007, and always in Georgia I draw pictures about Georgia, in St. Petersburg - about St. Petersburg, and I do the same if I find myself in Israel or Italy. Moreover, in Tbilisi I draw pictures about Tbilisi, and in Batumi - about Batumi, and this stubbornness already borders on idiocy. That is, everything that I have drawn in Georgia since 2007 is exclusively related to Georgia, I even published 2 books with my drawings dedicated to Georgia. The only exception was a series of 20 pictures about Morocco - I ended up in Tbilisi immediately after my trip there and was very afraid that fresh impressions would fade, and therefore that series is called "Pictures about Morocco painted in Georgia".
In general, Pirosmani is one of my favorite artists from the age of 15, when I saw his huge exhibition in the Russian Museum in St. Petersburg. The best Georgian artists, gallery owners, museum workers and collectors, participate in Tbilisi and Batumi artistic life, made many group and solo exhibitions.
Also, my family is from Georgia, so I have a feeling that I am at home.
Rita GELIN LICHT:
I don't think that Georgia has specifically changed anything about my art – I was always big fun of Asian/Middle East esthetics and beauty, but I love Georgia very much and feel like it is my home despite not having any roots here.
AK: Thank you! We wish all of you the best of success, and hope to see you again.