09.06.2023
(Caucasian Journal
)
The special guest of Caucasian Journal today is Mr. Jonathan DJANOGLY, Member of Parliament (MP) of the United Kingdom and Chair of the All-Party Parliamentary Group on Georgia.
Alexander KAFFKA, editor-in-chief of CJ: Dear Mr. Djanogly, welcome to Caucasian Journal, and many thanks for attention to our readers. You are the head of your Parliament's Group on Georgia, and the Honorary Member of the British Georgian Society, received in recognition of "an outstanding role played in support of Anglo-Georgian relations". May I start by asking how popular is Georgia among the British parliamentarians? What are the roots of your interest towards this region?
Jonathan DJANOGLY MP:
I joined the Georgia All-Party Parliamentary Group (APPG) around ten years ago after returning from a parliamentary delegation to Georgia. I was incredibly impressed with the beauty of the Georgian countryside, its history and the warmth of its people. I was even intrigued by the complexity of its politics.
Since that time, the interest in Georgia in the British Parliament has increased significantly, and we have over fifty members of the APPG representing both the House of Commons and the House of Lords.
AK: I suppose there is a lot that the Members of Parliament can do to help in developing the relations with a foreign country. In case of Georgia, can you share some of the success stories of the parliamentarians' involvement? Or, perhaps, some of the challenges that you or your colleagues helped to resolve?
JD:
The main framework for British-Georgian relations is called the Wardrop Dialogue, named after a Georgian expert British Ambassador from the early part of the last century [Sir John Oliver Wardrop, 1864 -1948 –
CJ
]. This was originally inter-governmental. However, in recent times, we have extended this to include contact between our respective parliamentarians.
Visits at every level, from ministers to MPs, now regularly take place, and I know that we have all learnt a lot from interaction with each other. We do also have teams of Georgian civil servants visiting the UK to see how we run things here.
But there are now so many more connections at different levels. For instance, only two weeks ago, I went to a reception for Georgian Chevening students. This is a scheme where our Foreign Office pays the tuition fees for foreign students. Georgia has 16 young people participating this year alone, which is tremendous.
Georgian Government walks a tightrope, and sometimes they will get it right, and sometimes wrong.
AK: In her 2019's interview, the Georgian president Salome Zourabichvili made a "tongue-in-cheek bid" to take the United Kingdom's EU place which was to become vacant after Brexit. "We will be very happy to take the place left by them,"- she said to Euronews. Many things have changes since then, both in the UK and Georgia. Can you talk about the significance of Brexit for UK, and – perhaps under that angle – about Georgia's EU aspiration?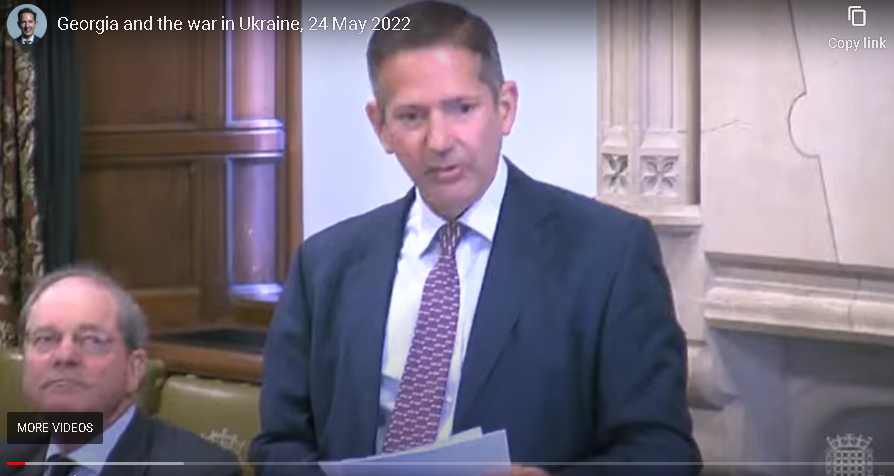 JD:
I agree that your President's comment sounds ironic, but maybe there is some truth in it. I was personally very much in favour of Britain remaining in the EU, and, who knows, once Georgia has its EU membership (which the UK certainly supports), perhaps one day you will help us come back in and rejoin the party.
AK: You are not only Conservative MP with many years of political experience, but also a professional lawyer. Some of the developments in Georgian political life have had considerable international resonance – such as the recent draft laws on foreign agents. If there is anything that you wish to mention – including, but not limited to, democracy, legal reform, opposition, foreign policy, civil society, polarization and oligarchs (the "EU terms"), what would that be?
JD: I do understand that the war in Ukraine has had significant knock-on effects for Georgia, as it has more or less for most Western countries. I personally take a robust view of the need to stand up against Russian imperialist designs.
Effective long-term governance and democratic choice can only arise out of having effective parliamentary opposition, offering positive alternatives.
However, it would be unrealistic to make direct comparisons between the UK and Georgia as regards Russia, both in terms of the practical implications of Russia's proximity to Georgia and the overwhelming imbalance of power. This has forced the
G
eorgian Government to walk a tightrope, and sometimes they will get it right, and sometimes wrong.
Certainly, Georgia's friends in Western Europe, not least the UK, were very pleased to see the draft Foreign Agents Bill withdrawn.
The polarization of Georgian politics is at some point going to have to be addressed before EU membership. Recent effective protest seems to have come from the ranks of civil society groups, rather than coherent parliamentary opposition. However, effective long-term governance and democratic choice can only arise out of having effective parliamentary opposition, offering positive alternatives. This is a great challenge for Georgian politics.
AK: If there is anything that you would like to add for our readers, the floor is yours.
JD: Generally speaking, the overall desires of our two countries are similar. We wish to live as free people, supporting democratic values. In addition, we want to improve the standards of living of our people through encouraging free markets and free trade. We also both love rugby.
Over the ten years that I have followed Georgia, relations between our two countries have deepened and constantly improved. Trade between our two countries is increasing, and more British people are now hearing of the tremendous tourist experience that Georgia has to offer. So, I am very positive for our future working together.