International Chamber of Commerce (ICC Georgia)
The Georgian National Committee of the International Chamber of Commerce is the largest and most vocal global business association, it includes over 350 corporate and youth members and 27 business associations.
The Aspen Institute CE, based in Prague, is a partner of the Aspen global network. The Institute enables policy innovations and broadens the participation of Central Europe in the global community.
Aspen Institute Romania is a non-profit, non-governmental association dedicated to promoting enlightened leadership in Romania and its region and to encouraging open-minded and informed debate among leaders about the challenges facing our societies.
The Chavchavadze Center
Named after Ilia Chavchavadze, a lasting symbol of Georgia's national revival based on the spirit of the Enlightenment, the Center aims to promote active citizenship and civic engagement. It is also focused on making the political process more rational and fostering better decision-making, including by helping people recognize fake news and Russian propaganda. The Center is dedicated to promoting Western values and supporting centrist/center-right ideas/agenda in Georgia's policy-making and political discourse.
Our Partner Publications: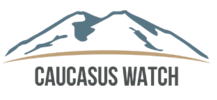 You are welcome to follow Caucasian Journal at: