05.03.2019 (
Caucasian Journal
).
Our honoured guest today is Jiří SCHNEIDER, Executive Director of Aspen Institute Central Europe in Prague.
Caucasian Journal:
First of all, thank you so much for taking time to answer our questions. Aspen Institute Central Europe became one of key partners of our project, and we greatly appreciate your support. We believe that organizations of Aspen Institute's caliber might be very useful for civil society development in our countries. May I ask you to comment on the concept of Aspen Institute CE, and its overall effectiveness in your country and region?
Jiří Schneider:
We decided to establish Aspen Institute in Central Europe as the ninth branch of the
Aspen Institute
in the world in order to bring its specific models of supporting value-based leadership and providing a non-partisan platform for responsible dialogue about society.
CJ:
The world's only statue of Václav Havel is situated in Georgia: The monument to the great Czech intellectual and first president was unveiled in Tbilisi in 2017. This is not a formal tribute - indeed major part of Georgians associate themselves firmly with the Western civilization. This is one of reasons why we believe Aspen's ideas will bear fruit on our soil. How such a perspective is seen from Prague?
JS:
Václav Havel symbolizes a fight for the freedom and the right of each nation to determine where it belongs. Seen from Prague Western civilization is not a geographic but a value notion. So-called Western values stand for individual rights and liberties and for superiority of the rule of law.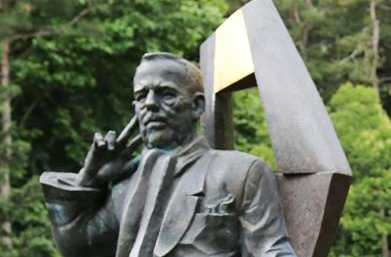 Monument to Václav Havel, Tbilisi
CJ: As noted, many people in South Caucasus identify themselves with Europe and the Western culture. Georgia's support the EU and NATO integration, and the sense of unity with the West is a highly valuable asset. But do Europeans perceive South Caucasus as a part of Europe?
JS:
In my view, a Western choice is not a matter of geography but values and principles. Any country should be able to claim its association by its behavior which is either rooted in those values or not.
CJ:
According to
Economist's
2018 Democracy Index, Czech Republic and Georgia occupy 34th and 89th positions respectively. While Czech Republic's score is the highest among the Visegrad states, and Georgia still rates above its neighbors, the democracy rating of both our countries has dropped. Why did this happen, in your view, and is there anything that can be done?
JS:
As opposed to the 90-s, democracy is currently challenged by more authoritarian ways of governance that some consider to be more efficient and competitive in globalized world. For some politicians in transformation countries it has become tempting not to be so strict on checks and balances, independence of media and justice, and the importance of rule of law. These fundamental principles of liberal democracy are mocked as a hypocritical cover, and part of the society tends to succumb to such critical voices.
CJ:
Can you share any examples of Aspen Institute's initiatives, events, or other activities which demonstrate the power of a modern civil society and show examples how it makes a change. Or perhaps you can name projects, which were least relevant? If there are any "lessons" you have learned they may be relevant to us as well.
JS:
The comparative niche or added value of Aspen programs is in connecting people who want to change society. In short, we make active movers and shakers from various sectors of society into a loose and agile network. For example, our Young Leaders Program has proven to provide opportunities for personal growth and cooperation. So far, we were not so successful in reaching out to different areas of human activity by involving more artists or sports champions into our events.
"
Added value of Aspen programs is in connecting people who want to change society. We make active movers and shakers from various sectors of society into a loose and agile network.
"
CJ:
As your organization's name implies, Aspen Institute Central Europe covers a larger geographical region. This is different from the rest of Aspen family organizations, which are primarily focusing on single country where they are based (such as Aspen Germany, Aspen France, Aspen India etc.). On the other hand, you are headquartered in Prague, and much of your content is related to your country. How do you balance your attention between the national and regional agendas? This is especially relevant to us, since we are also aiming to cover a larger region.
JS:
This is exactly one the main challenges we face. Since our establishment we have slowly grown our alumni network in all countries of the Central European region. We engage our young leaders in other policy related activities, support their projects if related to our main mission. One of our aims is to make strong link between national and regional agendas – most of the challenges we face are common for the region and beyond.
CJ:
We want cooperation with the Aspen family be fruitful to all involved. In this connection, can you tell which of Aspen Institute's activities and priority areas might benefit from promotion to the Caucasian region?
JS:
As I am answering to a publication,
Caucasian Journal
, I would say that our flagship journal,
Aspen Review Central Europe
would be the first to benefit from such promotion.
CJ:
I hope
Caucasian Journal
will be useful in delivery of key messages from Aspen Institute and other think tanks to the target audiences, especially by translating them to regional languages. There are dozens of very good NGOs around, but in many cases their impact is not going further than online posts, which are often in English only and fail to reach a wider audience. We not only hope to actually reach out to the people, but also to hear the feedback, since we want to serve as a platform for interactive discussion, not just for one-way publishing. I know that Aspen Institute CE is also paying much attention to reaching out to wide audience. Could you share some of your experiences?
JS:
Yes,
Aspen Review
is a source of expertise and opinion that is being translated and publish in local media. Of course, you need to develop a quality circle of contributors which obviously takes time.
CJ:
Our key partner in Georgia is ICC Georgia, which is the country's largest business association. Aspen Institute is well known for efficient cooperation with the corporations and the business world in general. Would you like to share any comments from your experience in this regard?
JS:
Building a diverse portfolio of partners requires mutual trust, again it takes time. I would like to wish you enough patience and stamina in creating it.
---
About Aspen Institute Central Europe
The Aspen Institute Central Europe is a partner of the Aspen global network. It serves as a non-partisan platform where politicians and representatives of business, as well as leading artists, athletes, scientists, and journalists can meet and interact. The Institute facilitates interdisciplinary and regional cooperation, and supports young Central European leaders in their development.
Founded in 1950, the Aspen Institute is headquartered in Washington, DC in the United States. Its global network spans across Europe, North America, and Asia. The Institute in Central Europe was established in 2012 and operates for the whole Central European region – primarily in the Czech Republic, Hungary, Poland, and Slovakia.
The Aspen Institute Central Europe's activities focus mainly on leadership seminars, expert meetings, and public conferences – all of which are held in a neutral manner to encourage open debate. The Institute's programs are divided into three areas: Leadership, Policy, and Public. In their implementation, the Institute focuses on issues that are critical for the future of the Central European region.