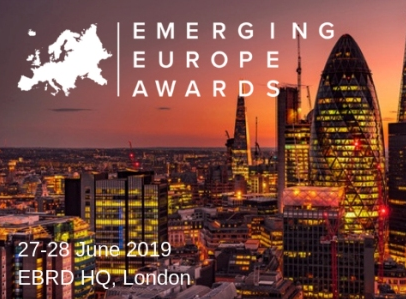 Caucasian Journal
is delighted to present our partner
Emerging Europe
journal, which is inviting South Caucasian participants to its Emerging Europe Awards 2019 edition.
The official press release follows below.
CJ
is proud to be a media partner of Emerging Europe Awards 2019 .
Following the successful launch of the Emerging Europe Awards in June 2018,
Emerging Europe
, a London-based business, media and research platform, whose mission is to contribute to the social and economic growth of 23 countries of Central and South-Eastern Europe and the Caucasus, is delighted to have
launched applications
for the 2019 edition.
"The 2018 edition of the Awards attracted almost 600 applicants from 23 countries," said Andrew Wrobel, founding partner, strategy and content at
Emerging Europe
. "This year we have added a few new categories and we expect even higher interest and even more interesting initiatives, as a large number of multipliers and influencers all over the region and beyond have joined us to promote the awards."
There are seventeen categories divided into three groups: image building, social and economic growth and two special categories for individuals who have contributed to the region's growth; one originating from the region and one from outside the region.
Starting from 2019, Lifetime Achievement Awards will be offered by the
Emerging Europe Council
, which consists of 12 members, all business and political leaders, social activists and artists such as Professor Günter Verheugen, former vice-president of the European Commission, Ivan Mikloš, former deputy prime minister of Slovakia, Ion Sturza, former prime minister of Moldova, HRH Princess Katarina of Yugoslavia, Elisso Bolkvadze, a globally-recognised Georgian pianist, and Olga Grygier-Siddons, former CEO of PwC CEE.
In 2018,
Emerging Europe
ran its own research and published an Investment Promotion Report (full ranking below). This year the organisation will publish its first Business-Friendly City Perception Index.
"The awards are, ultimately, about rewarding excellence and highlighting best practice across the region. We want to show the best of the region and we want to help raise standards," said Mr Wrobel. "Both the Investment Promotion Report and the Business-Friendly City Perception Index have been developed to serve these goals. During the awards we organise an investment roundtable where we share knowledge and experiences."
"One important element which is very often underestimated is the exchange of best practices, and that is exactly what you are trying to do here. We tell each other what we have achieved, how we have achieved it, what our problems are. My strong advice would be to concentrate very much on these exchanges," said Günter Verheugen, former vice-president of the European Commission, and the winner of the 2018 Lifetime Achievement Award.
PwC CEE, which covers the entire emerging Europe region, remains the awards' strategic partner.
"I'm proud that PwC served as a partner of the inaugural Emerging Europe Awards and I'm pleased that we are not only continuing to stay involved for the coming edition, but expanding the scope of our participation," said Jeffery McMillan, director, global communications, PwC.
"We have found the Emerging Europe Awards to be a great match for PwC, for our regional practice across Central and Eastern Europe, and our purpose of building trust in society and solving important problems. The awards recognise and bring together people from across the region whose work helps promote our region and make life better for its people. Our involvement has provided us with many great opportunities to build relationships with representatives of businesses, governments, investment promotion agencies and financial institutions.
"The first awards ceremony was a great success. Not only was it an inspirational showcase for how dynamic, innovative and passionate the emerging Europe region is — but the organisers also did a great job of fostering a sense of community among participants from several countries," added Mr McMillan.
The 2018 Awards were given to 11 winners from ten countries: Invest Lithuania, Siemens Czech Republic, Solaris, Amazon, City of Wrocław, City of Ljubljana, DeepDee, Teach for Armenia, We Care Men Care, New Bazaar Tirana and Professor Günter Verheugen.
"This is my first lifetime achievement award and I have very mixed feelings," Professor Verheugen joked when receiving the award. "So let's call it an award for lifetime achievement so far. I will continue to work, and while and I'm not in a position to make decisions anymore, a couple of weeks ago I became aware that there is now a new position, called influencer. I see myself as an influencer for the future of Europe."
"I am very glad to receive such a prestigious award," said Dariusz Michalak, deputy CEO of Solaris Bus and Coach, which was named Emerging Europe's Global Champion 2018. "We are proud that Solaris is a brand enjoying global recognition and appreciation. The Global Champion of the Year award is a wonderful confirmation of that fact, placing us in the elite group of top enterprises that won in 2018, including giants like Amazon and Siemens," he added.
"I'm so proud of winning such a prestigious and independent award, especially considering the very high standard of all other nominees in our category," said Roman Valny, CEO at Siemens Czech Republic.
The Emerging Europe Awards will take place on June 27-28, 2019 in London. The event will start with a Cocktail Reception at the Palace of Westminster (Houses of Parliament). The full awards programme, which includes keynote addresses, panel discussion and the awards ceremony, will take place on June028, at the headquarters of the European Bank for Reconstruction and Development.
All 2019 winners will receive trophies that were designed by the two Hungarian students who won a special trophy design
contest — Barbara Szőke and Bálint Szalai from the Moholy-Nagy University of Art and Design in Budapest.
ADDITIONAL RESOURCES
Awards website
2018 in numbers:
11 categories, 100+ press articles and posts, 110 nominees, 300+ attendees, 577applicants, 4m+ #EEAwards social media impressions
Nominees from countries:
Albania (5), Armenia (4), Azerbaijan (1), Belarus (6), Bosnia and Herzegovina (5), Bulgaria (6), Croatia (2), Czechia (4), Estonia (2), Georgia (5), Hungary (5), Kosovo (1), Latvia (7), Lithuania (4), FYR Macedonia (2), Moldova (2), Montenegro (2), Poland (21), Romania (5), Serbia (5), Slovakia (6), Slovenia (4), Ukraine (8).
List of 2018 nominees
Summary of Emerging Europe Awards 2018
2018 media coverage
If you have additional questions or need specific images, email us at
media@emerging-europe.com
.